LaVerne D. Partlow, MEd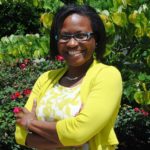 LaVerne has two goals – one to run a marathon in all 50 states and Washington, D.C. and the other is to run a health clinic in an underserved community. She is as passionate about running as she is about helping others when it comes to health.
A native of Charlotte, North Carolina, LaVerne graduated from the University of North Carolina at Greensboro with a BS in health education. She returned to earn her Master of Education at the University of North Carolina at Charlotte in health promotion.
Now, LaVerne is a health education coordinator at the Gaston County Department of Health and Human Services – Public Health Division. In her position, she is committed to working with members of the community to improve their health.
In her spare time, she reads James Patterson's Women's Murder Club novels and she is also involved in her sorority, Alpha Kappa Alpha Sorority, locally and at the regional level.
LaVerne volunteers with HashtagLunchbox Charlotte to deliver lunch bags to homeless people in her community.
Her advice to her colleagues,
"Take advantage of all the learning opportunities available to you."
LaVerne is a 10 year SOPHE member.