Angela Kroeze-Visser
Faces of a health education specialist
Switching gears from undergraduate to graduate school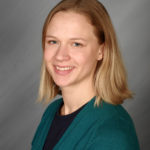 Angela Kroeze-Visser thought she would study social psychology following her graduation from Dordt College in Iowa. She did not consider public health as a career field until her professor linked her to a school of public health program.
When she began her master's degree in public health at the University of Minnesota, she was unsure which path she would take. Angela has a passion for social justice and systems thinking, and community health is where she found her niche.
Now, a community health planner for Sioux County Community Health Partners, Angela's advice to recent graduates and those interested in working in her field,
"Having lots of different experiences can really strengthen the work you do. It helps you relate to different people in different settings. I learned something in each position that I held that made me better in what I am doing now."
In her current position, Angela coordinates and facilitates community coalitions, manages the Community Health Needs Assessment, and builds partnerships and relationships in the community. She enjoys the variety of her work – It's always changing.
The most challenging aspect of her job is having a small agency with multiple programs and initiatives. They have a big vision for what their community needs, and sometimes it is difficult to manage everything and keep it moving. When asked what the most rewarding aspect of her position, she said,
"It's incredibly rewarding to work with people who hold lots of positions in the community and to see them come together to collaborate and bring together a new idea."
SOPHE annually recognizes health education professionals. Nominate a deserving peer, colleague, or student. Deadline: September 30.
Learn More