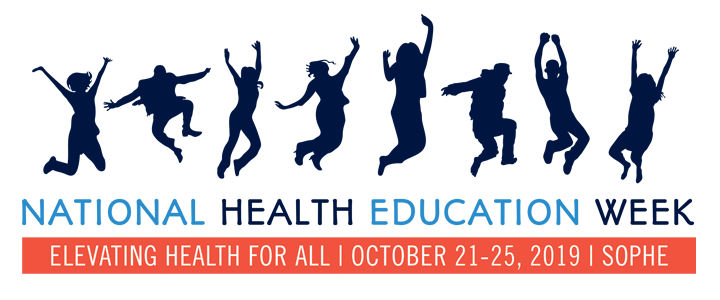 News Release
For Immediate Release
Contact: [name, phone, email]
National Health Education Week – October 21-25, 2019
Elevating Health for All
October 21-25, 2019 is National Health Education Week. This week, the Society for Public Health Education (SOPHE) celebrates health education specialists and highlights the work they do in their communities. [Add chapter info or sentence, if applicable]
Health education specialists offer knowledge, skills, and training that complement health care providers, policy makers, educational experts, human resource personnel and many other professionals whose work impacts human health. Health equity and literacy are important determinants of health status. Health education specialists promote and improve health literacy and equity through research, education, and advocacy,
[insert community/agency name] is joining the celebration with a [insert event] on [insert date and time] and we hope you can join us! For more information on National Health Education Week and activities, visit www.sophe.org.
During the week, health education specialists and public health advocates will enhance awareness of various contemporary health issues and how health education specialists work to solve them. There are many environments and professional settings where health education specialists work, but all health education specialists work toward one goal: creating healthier lives, in schools, worksites, and communities.
[Insert quote(s) about the importance of this week]
For example: "Health education specialists offer knowledge, skills, and training that complement the policy work we do at Environmental Company Place" says [name, title]. "These employees collect and analyze data that is essential for communicating with policy makers about changes that will create healthier environments for people where they live, work and play."
The themes for this week are: Monday –"Championing health for vulnerable populations," Tuesday –"Elevating Health for All," Wednesday – "School Health: Social Emotional Learning," Thursday – "Digital Health: Curbing misinformation by spreading true health education messages," and Friday – "Health Equity: Celebrating 20 years of REACH." Each theme has a planned event that can be found at https://wwww.sophe.org/focus-areas/national-health-education-week/.
#    #    #
 About National Health Education Week (NHEW): NHEW is celebrated annually during the third week of October and focuses national attention on a major public health issue, provides public education, and improves consumer understanding of health education's role in promoting the public's health. NHEW is recognized by the U.S. Department of Health and Human Services.
About SOPHE:  The Society of Public Health Education (SOPHE) is a non-profit professional organization founded in 1950 to provide global leadership to the profession of health education and health promotion and to promote the health of society.  SOPHE's 4,000 international and chapter members work in various public and private organizations to advance health education theory and research, develop disease prevention and health promotion programs, and promote public policies conducive to health.  For more information, go to www.sophe.org.