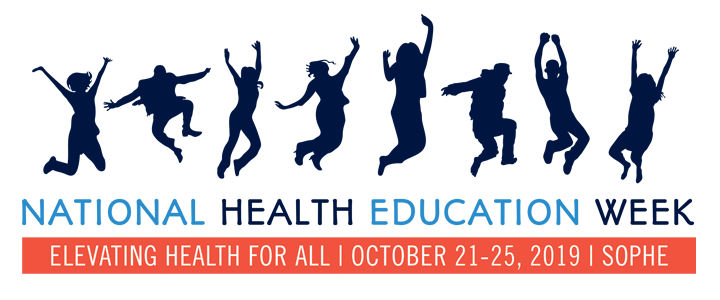 #NHEW Monday, October 21
Advocacy  – Championing health for vulnerable populations through advocacy
Save 25% off online course – this week only – NHEW, October 20-25
---
Social media posts
More funds needed for community & population health initiatives #healthequity #NHEW #AdvocacySummit19
Support policies, systems & environmental changes that promote health-in-all policies, approaches & address social determinants of health inequities  #healthequity #NHEW #AdvocacySummit19
Raise your voice against health inequality #AdvocacySummit19 #NHEW #healthequity
Encourage and support the careers of racial and ethnic minorities in the field of public health #AdvocacySummit19 #NHEW #healthequity
Support professional training opportunities to increase cultural competency of public health education & health care professionals #AdvocacySummit19 #NHEW #healthequity
Use @SOPHEtweets #AdvocacySummit19 to stand for health equity. Contact your policymakers & tell them you are an advocate for health equity #AdvocacySummit19 #NHEW #healthequity
See the actions SOPHE is taking to provide an evidence-based approach to the opioid crisis #AdvocacySummit19 #NHEW #healthequity https://tinyurl.com/y6yc4rx7
Individuals living in poverty are 9 times more likely to forgo necessary prescription drugs and 4 times more likely to delay or decline seeking medical treatment due to prohibitive costs than those in middle and high income brackets.
During National Health Education Week 2019, let's advocate for those who are historically silenced, ignored, and have had their trust violated with regard to economic and educational opportunities, environmental safety, access to health care, quality health care service delivery, education and their overall ability to thrive.
Socio-economic status, discrimination, education levels, housing and trauma influence the risk of developing chronic health conditions. Overt and covert racial and ethnic discrimination encourage the ever growing inequities in social determinants of health.
See the actions SOPHE is taking to provide an evidence-based approach to the opioid crisis at https://tinyurl.com/y6yc4rx7
---
Let's keep the momentum going from SOPHE's 2019 Advocacy Summit for day one of National Health Education Week! This year's summit focuses on the opioid crisis in America. Join us to take action on the things that are important to our country #AdvocacySummit19 #HEontheHill #NHEW https://wwww.sophe.org/advocacy/take-action/
Today is the first day of SOPHE's 2019 Advocacy Summit which kicks off National Health Education Week! Get more information on how you can advocate for opioid prevention. Check out advocacy toolkit for advice to get involved! #AdvocacySummit19 #HEontheHill #NHEW
---
Graphics
Related Resources
National Health Education Week: 7 Planning Steps to Communicating Your Message
| Open PDF
Whichever media outlet you choose, you need to be clear on the purpose of your message. Health education and promotion strategies can be challenging to communicate to others. To successfully communicate your message, follow these seven steps.
Writing a proclamation
| Open PDF
A proclamation is a formal announcement made by a local city or county government on a topic important to the members of the community. Issuing a proclamation is a great way to raise awareness about the importance of investing in health education specialists.