Social Media Toolkit
National Health Education Week (NHEW) 2020 is October 19-23, 2020.
SOPHE is thrilled to share all of the amazing resources we have to offer.
Below, you'll find some sample posts that you can use to share on your social media about NHEW!
Be sure to tag SOPHE (@sophetweets on twitter, @sophehealth on facebook, and "Society for Public Health Education on LinkedIn) so we can share your posts and use the hashtag #NHEW2020!
---
Before NHEW
I'm excited for National Health Education Week starting on October 19! Learn more about NHEW #NHEW2020
---
Monday, October 19
Today kicks off the first day of #NHEW2020! Find more resources about Health Equity & Racism Elimination on @sophetweets website www.sophe.org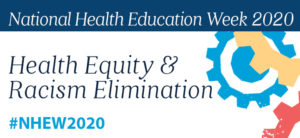 It's the first day of National Health Education Week! Monday's theme is all about Health Equity and Eliminating Racism. I can't wait to attend the webinar "Equity and Anti-Racism Approaches to Public Health." #NHEW2020
---
Tuesday, October 20
It's the second day of #NHEW2020! Head over to @sophetweets website for resources for today's theme: Emergency Preparedness: Are You Ready? Learn more www.sophe.org
How are health education specialists fighting COVID-19? Join us for a webinar on Oct 2, 2-3pm ET to learn about emergency preparedness professionals and their experience from the front lines. #NHEW2020 #emergencypreparedness #CHES #MCHES #COVID19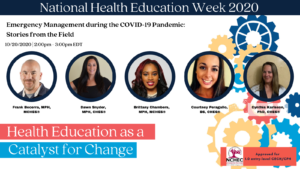 It's important to be prepared for emergencies and disasters, including COVID-19. Health Education Specialists play a vital role in creating plans and executing steps to help community members stay safe during emergencies or disasters. Join SOPHE and NCHEC for a webinar – Oct 20, 2-3PM ET. Discover how some pros on the front lines are using their training in emergency preparedness to fight against COVID-19 www.sophe.org
Emergency Preparedness is one of the many settings health education specialists are working in. Find out about their roles and how their work has shifted since COVID-19 began during a webinar on Oct 20 from 2-3PM ET www.sophe.org/focus-areas/national-health-education-week/emergency
---
Wednesday, October 21
We're halfway through #NHEW2020! @sophetweets has amazing resources on it's website for today's theme: Mental Health & Wellness. Check it out www.sophe.org
Tune in for "Supporting Employee Mental Health and Well-being during COVID-19" during #NHEW2020. Learn more www.sophe.org
---
Thursday, October 22
---
Friday, October 23
Where do health education specialists work? Join us on Oct 23, 2-3pm ET for a panel webinar to look into roles of current professionals in various settings. #NHEW2020 www.sophe.org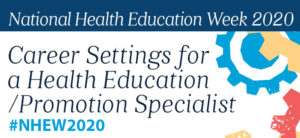 On the last day of National Health Education Week, we are taking a dive into the many settings Health Education Specialists can work including school health, non-profit, clinical, government and private/business settings. Join us for a panel webinar Oct 23, 2-3PM to learn about the roles of some health education specialists' and how their work impacts those they serve.
Click here to find out more information: https://www.nchec.org/guide-to-health-education-careers.