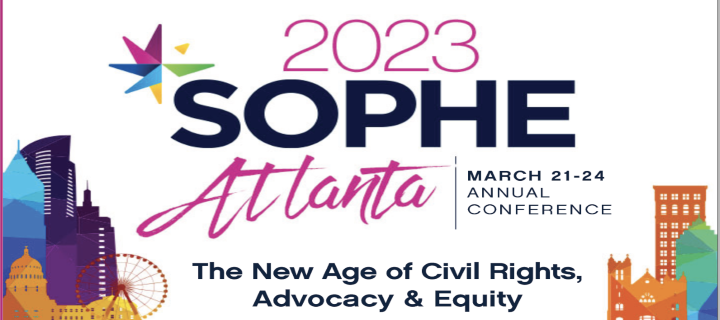 2023 Annual Conference
Tuesday, March 21 – Friday, March 24, 2023
Atlanta at the Sheraton Atlanta Hotel
---
The New Age of Civil Rights, Advocacy & Equity
Atlanta is known as "the cradle of the Civil Rights Movement" in the United States. From 1940 to 1970, Atlanta was the epicenter of the movement as Black leaders – Rev. Martin Luther King, Jr., former Rep. John Lewis, (D-GA), and former Ambassador to the United Nations, Andrew Young – fought for voting rights, access to public facilities and institutions, and economic and educational opportunities for African Americans.
Now some 52 years later, there is still a fight for the right to vote in a peaceful, democratic election, equity across the board, from education to healthcare to housing.
SOPHE 2023 recognized that the health and well-being of individuals in communities are dependent on the physical, social, environmental, and economic factors present in these communities.
Some communities are under-resourced and under-represented, and health inequities are evident.
Historically, these communities have been silenced, ignored, and their trust violated with regard to economic and educational opportunities, environmental safety, access to health care, quality healthcare service delivery, education, and their overall ability to thrive.
---
---

Exhibitors
Institute for Healthcare Advancement
Liberty University
FDA Center for Tobacco Products
National Alliance for Hispanic Health
Meds Global
Nova Southeastern University
University of Florida, Health Education & Behavior Department
Western Kentucky University