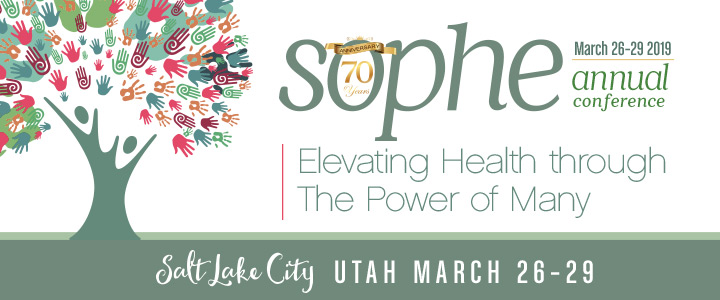 SOPHE 2019 Annual Conference
March 26: Pre-conference workshops, SOPHE Board Meeting, SOPHE House of Delegates and student case study competition
March 27-29: Annual conference workshops, sessions, Ignite, keynotes, plenaries, membership meetings
"Elevating Health Through the Power of Many"
In SOPHE's 70th year, we remain an organization that continuously strives to improve and elevate the health of all people, through collaboration across health and non-health sectors, advocacy for improved policies and systems, and fostering the circle of research and practice. We are committed to addressing the determinants of health and improving health outcomes through health education and promotion in all practice settings. We welcome exhibitors and sponsors who share these goals and invite you to connect with some 800-900 decision makers and information multipliers. Don't miss out on this unique opportunity.
Thank you to all who had submitted an abstract.
Abstract acceptance notification emails will be sent October 15.
Please contact education@sophe.org if you have any questions.
Conference subthemes:
Translating Evidence to Practice Health Education and Health Promotion in Action
Future of the Nation, Future of the World
Achieving Health Equity and Eliminating Disparities
Personal and Professional Development for Health Educators
Emerging Issues and Discovery of New Knowledge in Health Education and Promotion
Dr. Ping Johnson, the trustee, reflects on her vision for SOPHE 2019
Related Resources
SOPHE 2019 Call for Abstracts Instructions
| Open URL
SOPHE 2019 Call for Abstracts Now Open! Society for Public Health Education's 70th Annual Conference – Elevating Health Through the Power of Many – March 27 – 29, 2019 | Salt Lake City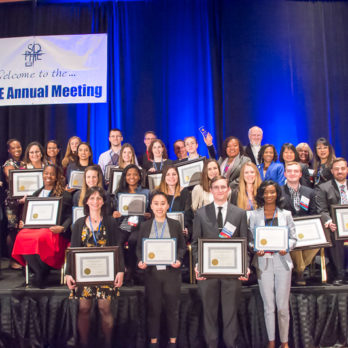 You can apply or nominate a colleague for more than 15 SOPHE awards. SOPHE awards are presented at the 2019 annual conference in Salt Lake City, March 26-29, 2019. The deadline is September 30.
Learn More