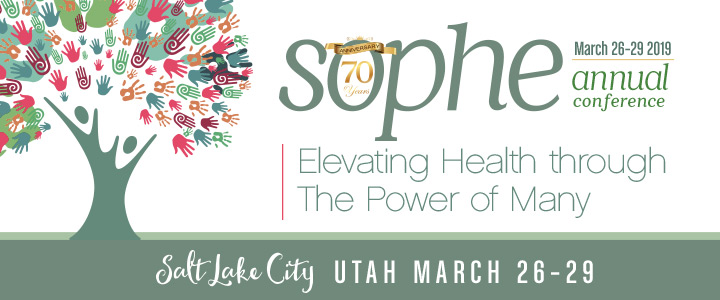 Frequently Asked Questions
1. What are the conference dates?
Wednesday, March 27 – Friday, March 29, 2019. The conference begins at 8:00 a.m. and ends Friday at 3:00 p.m. Times subject to change.
Tuesday, March 26 – Pre-conference workshops (additional fees apply), SOPHE Board Meeting, SOPHE House of Delegates and student case study competition.

2. Where is the conference?
SOPHE 2019 is at the Salt Palace Convention Center in Salt Lake City

100 S Temple, Salt Lake City, UT 84101

3. Who goes to the conference?
More than 800 health education and promotion professionals, students and colleagues who promote the health of society.

4. Are there key registration deadlines?
Yes, check out our registration page

5. If selected to present at SOPHE 2019, will I have to register?
Yes. If you have any further questions regarding your registration, email education@sophe.org.

6. SOPHE 2019 Abstract Confirmation Emails
Sent to the submitting author upon (1) creation of an abstract; (2) addition of any co-author(s); (3) completed submission of the abstract. Submitting authors received email notification, whether their abstract was accepted or declined, on or before October 15, 2018. If you did not receive an email notification and you are a submitting author, please email education@sophe.org.

A campaign to promote the profession of health education specialists and their impact on the health and well-being of all people. To share your story and have the chance to share on our website, email myimpact@sophe.org.

8. Is the 180 seconds to Impact Health a student event?
The 180 seconds to Impact Health is for a select few graduate students to share their work during a one-hour period at the conference. More details to come. If you have questions, email education@sophe.org.

9. What is the conference hotel?
Radisson Salt Lake City Downtown, 215 S Temple, Salt Lake City. The room rate is $169. To reserve a room, contact the hotel at 801.531.7500 and ask for the SOPHE 2019 rate.

10. What is the membership discount?
Registration details are available.

11. Can I add other events or activities to my registration at a later date?
Yes, you can log back into your registration profile and register for workshops or other conference events and activities.

12. What meals are included with the conference registration fee?
There are refreshments served in the morning and afternoon. Food is served during the opening reception and the awards ceremony.

13. How can exhibit or sponsor the conference?
Check out our exhibitor and sponsor prospectus. For more information contact education@sophe.org.

14. How can I get help with registration?
The conference rates are similar to SOPHE 2018. Contact our membership coordinator & office manager, Shadia Henson, at 202-408-9804, or email membership@sophe.org.

15. Is continuing education available for attending the conference sessions and workshops?
Yes, the conference provides CE to CHES®, MCHES®, and CPH certified individuals.  More information on the number of credits coming soon. If you have any questions, contact education@sophe.org.

Every year, SOPHE presents awards to faculty, practitioners, students and chapters in more than 15 categories.
Read about each award, fellowship or scholarship, the eligibility, requirements and submit an application.

17. Is there a SOPHE store onsite at the conference?
Yes, SOPHE offers items for sale near the registration desk. For more information, contact info@sophe.org.

18. Are there student events?
Yes, there is a student case study competition (application required), student workshop, and 180 seconds to impact health session. More information coming.

19. How can I travel from the convention center to my hotel?
The Salt Palace Convention Center is a 3-minute Uber, Lyft, or taxi ride from the Radisson Hotel. Learn more about the free ride zone in downtown Salt Lake.
Related Resources
SOPHE 2019 Call for Abstracts Instructions
| Open URL
SOPHE 2019 Call for Abstracts Now Open! Society for Public Health Education's 70th Annual Conference – Elevating Health Through the Power of Many – March 27 – 29, 2019 | Salt Lake City
Apply-SOPHE/CDC Fellowship in Unintentional Injury Prevention, Fellowship in Patient Engagement, R. Brick Lancaster Community Health Internship & 21st Century Scholarships. Deadline May 15, 2018
Learn More