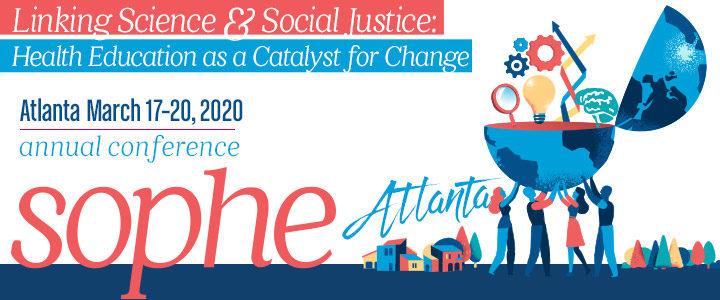 SOPHE 2020 Annual Conference
Theme
Linking Science & Social Justice: Health Education as a Catalyst for Change
Public health education professionals and others who seek to improve health outcomes often find their efforts are affected by larger societal forces, including disparities and social inequalities. These social justice issues severely affect outcomes in health care, education, mental health, the economy, and other areas that have a major influence on the quality of life for individuals and families.
This conference will address ways that public health education professionals can have an impact on these social justice issues, through policy, advocacy, and communications; teaching and professional preparation; building and fostering effective partnerships; strengthening research translation and implementation; and addressing the continuum of prevention and care.
When
March 17, 2020 | Pre-conference workshops & student case study competition
March 18 – 20, 2020 | SOPHE 2020
March 20, 2020 | Post-conference workshops
Where
Sheraton Atlanta Hotel
165 Courtland Street
Atlanta, GA 30303
855.680.3239
News: SOPHE 2020 is now in smokefree Atlanta.
Why
SOPHE's Annual Conference offers health education specialists and those working in health education and health promotion:
New ideas and skills through workshops, round-table discussions, sessions, think tanks and posters.
Continuing education opportunities for professionals who may not have immediate access to key leaders in the field.
Opportunities to network with other professionals across the country and the world.
Introductions to the latest work and research in the field.
Abstracts
Thank you to those who submitted an abstract. Notifications will be sent out in October.
Conference Subthemes
Interested in attending our conference? Our conference sessions will fall under at least one of the following subthemes:
Changing Systems: Policy, Advocacy, Communications
Changing Minds: The Art and Science of Teaching in Communities and Professional Preparation
Changing Perspectives: Leveraging Sectors, Engagement, and Partnerships
Changing Approaches: Emerging Issues in Research Translation and Implementation
Changing Outcomes: Health Education and the Continuum of Prevention and Care
Related Resources
SOPHE 2020 Exhibitor & Sponsor Prospectus
| Open PDF
SOPHE 2020 Exhibitor & Sponsor Prospectus Get in front of nearly 1,000 health education professionals and students who will gather for 2 1/2 days of professional development, networking and continuing education in Atlanta, March 17-20, 2020 for SOPHE 2020. You can meet, mingle and connect with attendees before, during and…