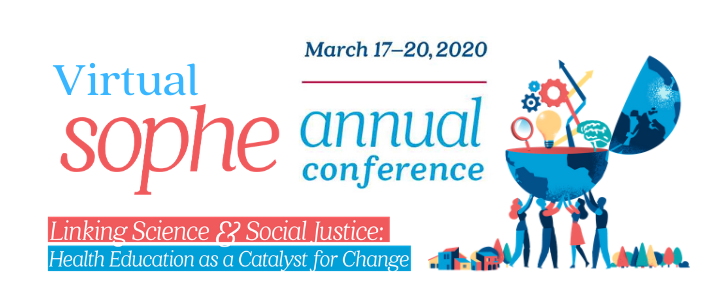 March 11, 2020
SOPHE has continued to monitor the COVID-19 outbreak in the U.S. and globally. After much deliberation, SOPHE will transition its 2020 Annual Conference to a virtual event and upgrade all registrants to virtual attendees.
The Virtual SOPHE 2020 will kick off next week.
Further details around the schedule coming soon.
All sessions will be recorded and made available on demand.
No sessions will be held at the Sheraton Atlanta.
Virtual attendees will have the opportunity to
Earn more than 59 continuing education credits
Have access to a virtual exhibit hall
Have access to all SOPHE materials – abstracts and poster digital images
Use the SOPHE Mobile App
What you need to know:
SOPHE 2020 Annual Conference will be held VIRTUALLY.
No sessions will take place in the Sheraton Atlanta Hotel.
We recommend that you not initiate your travel to Atlanta and cancel any airline/transportation arrangements.
Contact your hotel directly to cancel your hotel room as soon as possible.
Consult the Virtual SOPHE 2020 FAQs for specific details.
Many U.S. agencies and institutions are prohibiting staff travel or meeting attendance.
Some health education faculty and practitioners are needed to address COVID-19 related activities in their communities, schools, worksites, or campuses.
At SOPHE, our top priority continues to be the health and safety of our members, conference attendees, and staff. SOPHE is following the scientific guidance of the World Health Organization and the CDC.
We look forward to engaging with you in this new virtual environment. Please consult the SOPHE website and look for future Virtual SOPHE 2020 communications as they become available.