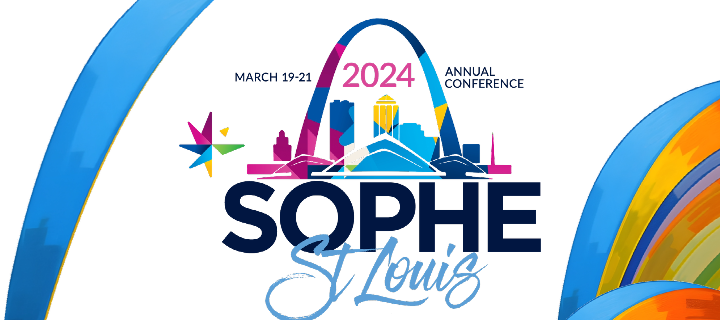 Call for Abstracts
Important Dates
Acceptance Notification expected on or before Friday, December 22, 2023
Gateway to Health Equity: Global solutions to strengthen health education and promotion capacity
The 2024 SOPHE 75th Annual Conference, scheduled for March 19-21, 2024, in St. Louis, Missouri, is an inclusive opportunity for anyone who plays a role in the health education profession. The annual conference offers various learning experiences and opportunities to connect with colleagues and friends.
Educational Tracks
Enhancing global health education and promotion through culturally competent programs for historically marginalized communities
Marginalized communities include those who have been regularly excluded from involvement and those facing other barriers to civic participation that can impact their health (e.g., race, poverty, sexual identity and orientation, age). Abstracts are encouraged that showcase innovative approaches in schools and communities of identifying and building trust with multicultural, multi-lingual low-income persons and other vulnerable populations (e.g., those experiencing homelessness, physical disability, LQBTQIA+, immigrants, military combat veterans, or language barriers). Approaches to overcoming challenges to data collection of marginalized populations and providing training/technical assistance to professionals to provide respectful, culturally competent, tailored health solutions also are invited.
Providing global health education and promotion interventions for behavioral and mental health
The COVID-19 pandemic has highlighted the urgent need to address behavioral and mental health issues at a population level. Abstracts are sought that address upstream factors such as systemic racism, discrimination, and environmental injustice, as well as multi-level intervention frameworks to address downstream conditions. We seek abstracts that foster mental health of students, faculty and staff in K-12 schools, colleges/universities, worksites, and other settings; employer support for mental health of public health professionals; family and social support; environmental stressors that contribute to mental health issues; and behavioral health assessment tools for community/workplace. Evidence-based approaches to destigmatizing mental health issues, promoting early intervention, and fostering resilience and self-care also are encouraged.
Preparing health educators to work in a global society
The global nature of public health threats such as COVID, as well as the alarming rise in noncommunicable diseases (e.g., epidemics of type II diabetes, obesity, and physical inactivity) underscore the need to develop and strengthen a diverse and inclusive health promotion and education workforce. We welcome abstracts that address pre-service (i.e., undergraduate, graduate, community college, high school levels) and in-service competency-based education outcomes for health educators to meet global public health challenges. Presentations in this area would address the development of curricula in policy/advocacy and aligned with the 2022 WHO report Building the public health and emergency workforce: A roadmap; learning activities, assessment approaches, and synchronous and asynchronous teaching methods. We invite innovative strategies to recruit, retain, and train the existing health education workforce, including the impact of certification and credentialing programs.
Developing health education and promotion solutions for proactive health communication in a global society
Health communication is critical in combatting diseases such as COVID-19, promoting healthy behaviors, and ensuring the well-being of our global enterprise. We seek cutting-edge advancements in health communications theory, evidence, or strategy, including social marketing, media outreach, health literacy, crisis and risk communication, accessible website design, and social media uses/metrics. Topics also could showcase how generative and predictive artificial intelligence (AI) is being used in public health to facilitate the development of proactive messaging strategies for specific audiences, as well as related ethical considerations.