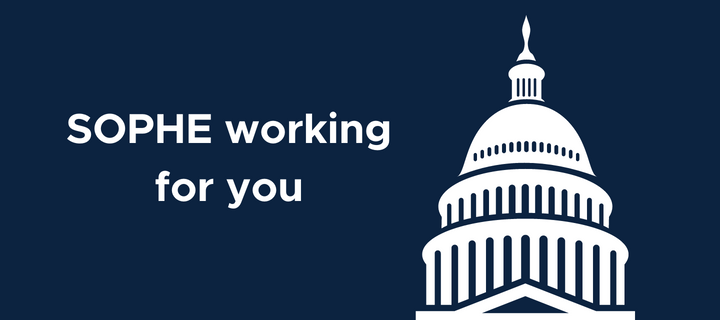 Alerts, Briefs & News
Biden says he believes the COVID-19 pandemic is "over."
9.19.2022 | Read more>
This ruling not only overturns five decades of legal precedent protecting the right to choose, but it represents a rare step of overturning a constitutionally protected right.
SOPHE applauds the USDA
6.23.2002 | Today, SOPHE applauds the U.S. Food and Drug Administration for their act to stop JUUL Labs Inc. from selling and distributing their products in the U.S. Also, all of their products must be removed or risk further enforcement action. The JUUL products include their devices and pods – tobacco and menthol flavored pods at nicotine concentrations of 5% and 3%. Read more>
The U.S. House of Representatives passes a $1.5 trillion government funding package
3.10.2022 | The bill will fund the government through the end of the current fiscal year, September 30. Read more>
3.2.2022 | SOPHE affirms Biden's pursuit to fundamentally improve the health of our nation's people. The health education profession has a crucial role in achieving the goals outlined in the president's speech, as the profession has consistently promoted policies that achieve health equity, reduce health disparities, and expand health literacy. Read more>
SOPHE applauds the deal to fund government through February, 18, 2022
12.3.2021 | SOPHE is thankful that the agreement will prevent a government shutdown at a critical time during our efforts to combat the coronavirus pandemic and the emerging Omicron variant.
SOPHE's Board of Trustees calls for integrating the role of disability and ableism in health education and health promotion practiceThis ruling not only overturns five decades of legal precedent protecting the right to choose, but it represents a rare step of overturning a constitutionally protected right.
8.16.21 | SOPHE recognizes that the health and well-being of communities and individuals within them is dependent no only on biological, but also social and environmental factors. Read more>
SOPHE joins the call to action to stand with public health
8.11.2021
SOPHE joins other organizations in the effort to call for a strong public health system in the U.S. Top priorities:
Stop the harassment of the public health workforce
Reject efforts to sideline public health
Revitalize public health agencies
Pres. Biden released a proposed budget of $6 trillion for FY 2022
5.28.2021 | The proposed budget includes $2.3 trillion to fund the American Jobs Plan, $1.8 trillion for the American Families Plan, and $1.5 trillion in discretionary spending. In a follow-up briefing with the CDC Coalition, CDC Director Dr. Rochelle Walensky noted that the proposed CDC budget of $9.6 billion, which is an increase of $1.7 billion over FY21, is the largest CDC increase in two decades. She noted proposed funding increases in 26 areas, including CDC's FY 22 priorities: investing in world-class data and analytics, state-of-the-art laboratories, the public health workforce, rapid outbreak response, domestic preparedness, and global health protection. Dr. Walensky emphasized that all of these funding streams would assist in the overarching goal of eliminating health disparities and achieving health equity. Read more>
Protecting Moms Who Served Act: the bill has been passed by the House
5.12.2021 | The House of Representatives just passed the Protecting Moms Who Served Act with unanimous bipartisan support! Thank you @RepUnderwood, @RepGusBilirakis, @RepBrownley, & @RepBrianFitz for your leadership to end maternal mortality, morbidity & disparities among veterans.
SOPHE applauds today's proposal by the FDA
4.29.2021 | SOPHE applauds today's proposal by the Food and Drug Administration (FDA), Department of Health and Human Services (HHS), and the White House to ban menthol as a characterizing flavor in cigarettes and all characterizing flavors (including menthol) in cigars. Read more>
Senate passes COVID-19 Hate Crimes Act
4.24.2021 | On Thursday, April 22, the Senate voted 94-1 to pass the COVID-19 Hate Crimes Act (S. 937). Sen. Mazie Hirono (D-HI) sponsored the legislation to strengthen federal efforts to address the rise in hate crimes and violence against the AAPI community. This bill creates a position in the Justice Department to review hate crimes and expands methods to report them. Additionally, it calls to create state-run hate crime hotlines, provides grants to law enforcement agencies to train officers to identify hate crimes, and creates public education campaigns. The legislation now moves to the House for a vote.
SOPHE advocates for CDC's REACH Program
4.20.2021 | SOPHE continues to advocate for FY 22 appropriations funding for CDC's Racial and Ethnic Approaches to Community Health (REACH) program. SOPHE is participating in virtual visits with congressional offices to push for funding the program at $102.5 million in the FY 2022 Labor, Health and Human Services and Education Appropriations bill to increase the program in all states and U.S. territories, and support grantees in building collaboration and disseminating evidence-based strategies in communities.