Coronavirus (COVID-19)
Questions & Answers
What is COVID-19?
The 2019 novel coronavirus infection, also known as COVID-19, is a respiratory infection caused by a virus (new name of the virus is "SARS-CoV-2")
Coronaviruses are common. In fact, many ordinary colds are caused by coronavirus.
COVID-19, identified in Wuhan, China in 2019 – 99% of cases within China
COVID-19 is actively being studied to determine how it is transmitted.
Most likely transmitted by droplets from an infected person's cough or sneeze.
Unclear if it can be transmitted by touching a surface or object that has the virus on it and then touching your mouth, nose or eyes.
How can I protect myself?
Risk to the U.S. general public is considered low at this time.
People who have traveled in Hubei Province in China, or who live in the same household or have had intimate contact with someone with confirmed COVID-19, are at highest risk.
There is no need to wear a face mask if you are well and do not have symptoms.
Protect yourself from COVID-19 in the same manner as you would avoid getting the cold or flu.
Avoid close contact with people who are sick.
Cover your cough or sneeze with a tissue or the crook of your elbow, rather than your hands – and throw the tissue away immediately.
Wash your hands often using soap and water for at least 20 seconds.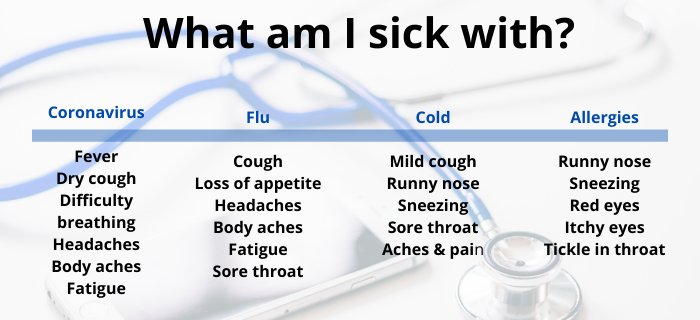 What if I develop symptoms?
Common symptoms of COVID-19 can include high fever, cough, and shortness of breath.
If you have symptoms and are at high risk, call your health care provider(s) immediately.
Tell them about your symptoms and recent travel before visiting your doctor's office or health care facility in person. This will give your provider enough time to put infection prevention and control measures in place before your arrival.
Don't travel, including using public transportation, and avoid contact with others.
What should I avoid?
Do Not Panic Irrationally – CDC statement: Anyone in the US who has not traveled to China or been in contact with someone with a confirmed (or suspected) case in the last 14 days is at low risk.
Consider relative risk: Risk is much greater in the US for flu.
Do Not Travel to China of High-risk Areas. Avoid close contact with people who are sick and stay home while you are sick
Do Not Use Face Masks – CDC does not recommend for general public – Masks protect the sick from spreading germs but will not prevent you from getting sick.
Do Not Assume That Anyone of Asian Descent Is More Likely to Have Coronavirus – Use common sense – Do not forget about the importance of inclusivity and evidence-based information.
---
Adapted from: CDC  and National Foundation for Infectious Diseases