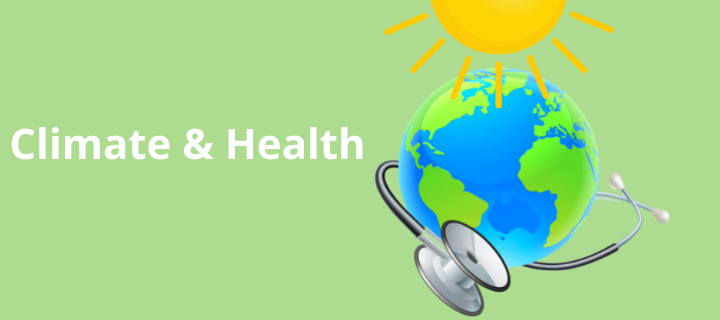 Climate & Health
Climate is defined as long-term averages and variations in weather measured over a period of several decades.
Many aspects of the global climate are changing rapidly. The primary drivers of this climate change are human in origin.
Human activity is a driving force behind the climate change. The earth's increasing temperature is due to fossil fuel burning, deforestation, and increased livestock farming. This causes a greenhouse effect that traps the sun's heat in the atmosphere and causes global warming.
Scientists agree that the global temperature will continue to rise for decades, causing more extreme weather events, rising sea levels, and more intense heat waves — all have serious impacts on human health.
Why climate change matters
Climate change has serious impacts on population health. An increase in global temperature impacts:
the frequency and intensity of weather events
food availability and nutrition
infection rates
the quality and safety of air and water
mental health
Climate change will impact all populations. The impact will have a greater effect on vulnerable populations – children, the elderly, individuals with existing chronic disease and disabilities, and minority and low-income populations who experience health inequity.
This infographic shows the specific effects of climate change on health
Climate in the news
The Pacific Northwest heat wave in late June 2021 was responsible for over 800 deaths—mostly low income, people of color and the elderly. Scientists concluded the unprecedented heat was without climate change. Read more>
An international study in the July 2021 edition of The Lancet Planetary Health found that more than five million extra deaths per year can be attributed to abnormal hot and cold temperatures. Read more>
The world has experienced a barrage of climate catastrophes – extreme heat, wildfires, hurricanes and dust storms. All are influenced by climate change. These weather events will get worse. Read more>
Role of Health Educators
Health educators are essential to inform the public about the health impacts of climate change. They work to decrease the impact of harmful climate changes on the environment especially for vulnerable populations.
Health education specialists provide science-based information on the impact of climate on health.
Health educators apply the CDC's Building Resilience Against Climate Effects (BRACE) framework to help communities prepare for the health effects of climate change.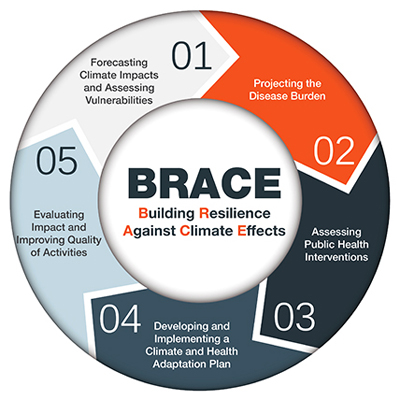 SOPHE's Environmental Health Community of Practice
SOPHE's Environmental Health Community of Practice participants share and promote news, continuing education, webinars, trainings, calls for submissions, or content on environmental health.
Sharing communication and asking open-ended questions is also a great way to engage the Environmental Health CoP interests.
For more information and join SOPHE's Environmental CoP, contact Matt Weinburke or Kasondra McCracken).
Climate for Health
Climate for Health has an exciting new resource to share with you, Climate Action Fact Sheets. These fact sheets provide critical, straightforward information on what people need to know and need to do about climate change.
From home to workplace, from community to policymakers, these immediately actionable guides provide clear, simple steps.
Climate Solutions for Your Workplace
Climate Solutions for Your Home and Neighborhood
Climate Solutions for Your Community
Climate Solutions Advocacy with Policy Makers
Related Resources
Read more about the role of health educators in addressing climate's impact on health.
For more information on the effects of climate change on health and ways to get involved in the climate for health effort:
EcoAmerica Climate for Health Training