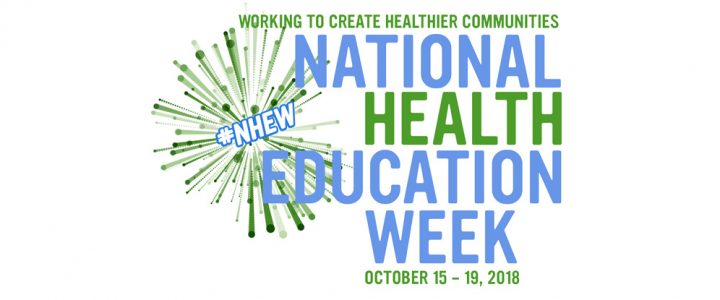 National Health Education Week – October 15-19, 2018
Since 1995, the Society for Public Health Education (SOPHE) has celebrated National Health Education Week (NHEW), in collaboration with the Department of Health and Human Services, during the third week of October.
NHEW is focused on increasing national awareness on major public health issues and promoting a better understanding of the role of health education.
Join SOPHE, its chapters, members and partners every October for events, webinars, and activities across the country.
Working to create healthier communities
In 2018, let's raise awareness of the importance of our future health education specialists in improving consumer health and wellness. NHEW 2018 will amplify SOPHE's most recent initiative #MyImpact to promote the profession of health education and the work of health educators across all public health settings.
Together we make an impact – share your public health contribution via #myimpact tweet, Facebook post, Instagram update, LinkedIn update or send SOPHE your impact statement. We'll post and share – together let's make an impact!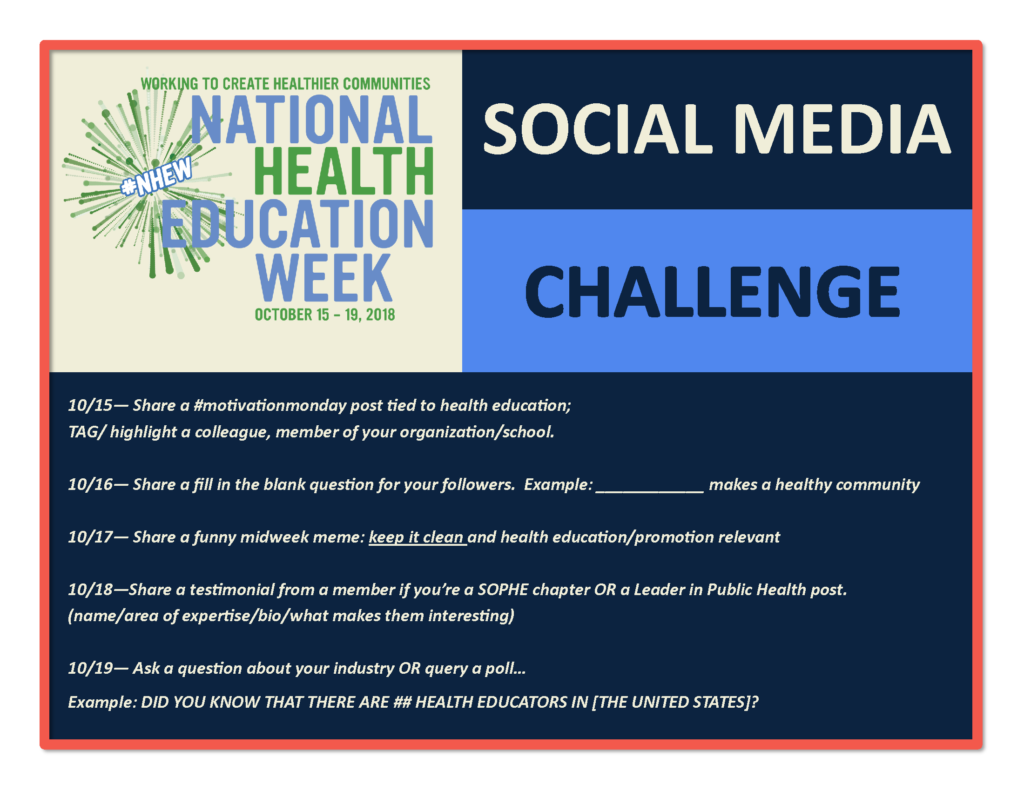 ---
Future NHEW
October 21-25, 2019
October 19-23, 2020
Related Resources
2017 NHEW Toolkit
| Open PDF
National Health Education 2017 Toolkit 2017's NHEW pays tribute to Scaling New Heights: Health educators know what's up – October 16-20. This toolkit can be used to promote NHEW, including the following daily themes: Monday, October 16: Health Connections Tuesday, October 17: Technology tweets Wednesday, October 18: What's advocacy got…
National Health Education Week 2016 Toolkit
| Open PDF
2016's NHEW pays tribute to Partnerships to Build Community Health on October 17-21. This toolkit can be used to promote NHEW, including the following daily themes: • Monday, October 17: Community Health, Health Equity, and Faith-based Partnerships • Tuesday, October 18: Worksite Health Partnerships • Wednesday, October 19: School Health…
Partnering4Health Sustainability Toolkit
| Open PDF
Chronic diseases, such as heart disease, diabetes, and cancer, are the leading causes of preventable death and disability in the United States. As a result, CDC's National Center for Chronic Disease Prevention and Health Promotion funds programs that help communities promote healthy behaviors and environments where Americans live, learn, work,…