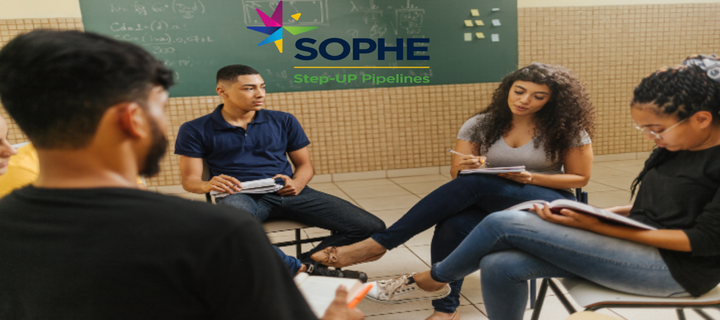 Public Health Workforce: Step UP Pipelines
The Hispanic and Latino populations comprise the largest minority group in the United States—18.5% of the overall population. However, Hispanic and Latino professionals make up just 12.7% of the state and local public health workforce.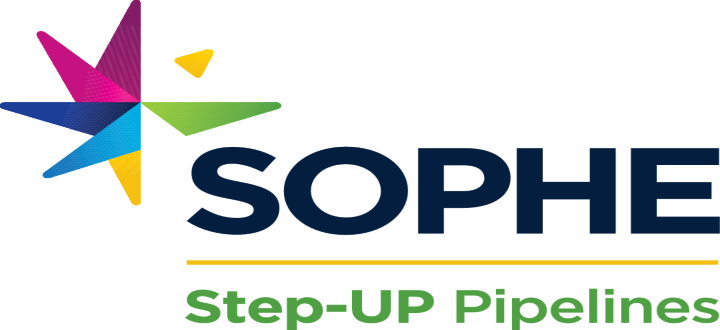 To address this lack of representation of Hispanic and Latino professionals in the public health workforce, SOPHE is launching the Step-UP Pipelines Program.
Increasing Hispanic and Latino representation is a critical step to address racial health inequities. A workforce that represents the population they serve is better equipped to meet the needs of a diverse community.
The Step-UP Pipelines Program
The Step-UP Pipelines program encourages Hispanic and Latino students to pursue undergraduate degrees in public health and health education.
The program provides students with the opportunity:
To learn more about the public health and health promotion field.
To explore a variety of career options.
To develop personal and professional skills.
Beginning in October 2022, a cohort of Hispanic and Latino undergraduate students from six partner Hispanic Serving Institutions will participate in the eight-month pilot program. Approximately 20 students from:
Students will attend live and asynchronous sessions. To foster engagement, they will post and respond to comments via SOPHE's e-learning on CORE.
Participants are encouraged to attend local SOPHE Chapter events. Students receive a stipend and a SOPHE membership for one year for their participation.
Mentorship
Mentorship is an important component of the program. Mentors will regularly meet with participants to further increase engagement.
Who is a mentor? Current SOPHE members (national or chapter) interested in empowering the next generation of leaders in public health and health education.
A mentor must commit to meet their mentee via Zoom from October 2022 to May 2023, one academic year, 2-4 hours per month.
Step UP Pipelines Goals & Outcomes
The overarching goal is to develop a customizable roadmap that Hispanic Serving Institutions can use to pique interest, raise awareness, encourage commitment, and mentor Hispanic and Latino students to pursue degrees and/or careers in public health education.
Long, Intermediate & Short-term Goals
Long-term goals
Increase diversity in the public health workforce and leadership
Increase diversity in SOPHE membership.
Intermediate-term goals
Students will become SOPHE members (local and/or national) beyond the program's duration.
Students and mentors will develop meaningful relationships.
Retention
Students will obtain associate's or bachelor's degrees.
Students will pursue additional public health education opportunities and trainings (transferring, internships, certificates, CHES®, jobs).
Short-term goals
Students will demonstrate:
Increased interest in public health education.
Increased awareness of public health education career opportunities, including public health education.
Increased awareness of public health education concepts, including health equity.
Personal and professional development.
Students will be engaged, active SOPHE members for the duration of the program.
Outcomes
At the end of the eight-month program, students will report:
Attending and participating in required sessions addressing health education, public health, professional development, and related topics.

Students will have the opportunity to lead a webinar, journal club, or workshop to share a public health topic of interest with the group if interested.

Engaging regularly with local SOPHE chapter events and activities.
Meeting with a SOPHE mentor monthly (or more frequently) to discuss personal and professional goals and development.
For more information about SOPHE's Step UP Pipelines, email lsu@sophe.org.