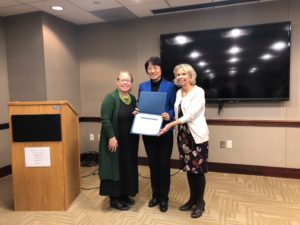 WASHINGTON, D.C. – The Society for Public Health Education, Inc. (SOPHE) was ecstatic to host the Chinese Delegation on a series of site-visits in the heart of the national office, Washington D.C. from January 29 to February 2, 2018.
Throughout the week, the Chinese delegates engaged with health professionals to learn more about various ways the public health field works to provide resources and access to care to diverse populations. They attended many informative sessions covering topics such as advocacy, accreditation, community organization, and marketing. The Chinese delegation also had the opportunity to visit many credible health agencies, such as the D.C. Department of Health, Kaiser Permanente, and NIH Library of Medicine.
While at Kaiser Permanente, the delegation and SOPHE staff were able to visit the Center for Total Health. This tour included interactive and immersive exhibits designed bring to life the many ways that the public health industry uses technology and innovation to better serve the expanding needs of health care in the United States.
The delegation shared insight to their own health practices and likewise returned to China with new resources and ideas on how to better implement their public health initiatives.