Naya Brown is a SOPHE Collegiate Champion and Master of Science in Health Education student at Arcadia University.
As the Spring 2018 semester end is in sight, Brown reflects on her campus event and chance to engage in campus health education & alcohol awareness: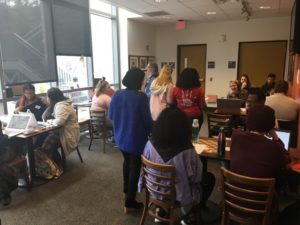 The activities that students were the most interested in were the Beer Goggles activity and the Bingo activity that was held. For the beer goggle activity, students tried on the goggles which stimulate visual impairment of drinking at a high Blood Alcohol Concentration and try to walk the line (tape on the floor). The take away was that students can see how impaired they are at a certain Blood Alcohol Concentration. The second activity that was held was Bingo. We read questions related to alcohol awareness and the students guessed correctly until some called out "Bingo!"
"This event impacted me as a health professional because students were highly interested in learning about alcohol awareness. Many students asked questions and I was able to educate students about the treatment and prevention of alcoholism."
Application information for the Collegiate Champion program for the next academic year will be announced Summer 2018 and open to SOPHE Student members.