WASHINGTON, D.C. – The Society for Public Health Education (SOPHE) was selected as a 2017 Outstanding Service and Leadership Award winner in the organizational category by the National Commission for Health Education Credentialing (NCHEC). The NCHEC Outstanding Service and Leadership Award highlights individual and organization achievements in the implementation of programs and policies that promote the role of certified health education specialists within communities, populations, and/or organizational structure. Winners were selected in recognition of one individual and two organizations displaying exemplary commitment to the advancement of the health education profession and of the Certified Health Education Specialist (CHES®) and Master Certified Health Education Specialist (MCHES®) credentials.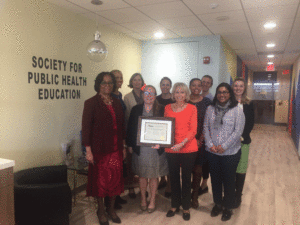 The nomination included multiple categories to evaluate areas on advancement of certification, profession, public health, and the overall mission/goals of the organization. Some highlights include:
SOPHE communicates the value of the CHES®/MCHES® credential and professional development opportunities on its web pages, social media updates, and National Health Education Week special events. Every year, SOPHE hosts an Annual Advocacy Summit in Washington, D.C. and an Annual Conference across the U.S. each offering continuing education credits.
In 2017, SOPHE provided more than 35 webinars with approximately 2000 attendees, many in collaboration with national public/private organizations.
SOPHE regularly advocates for health education and/or public health on Capitol Hill, in public comments for proposed rules, and letters to both federal and state government supporting CHES®.
SOPHE's 2017 CHES resolution advocates that all positions with primary health education responsibilities require CHES®/MCHES®.
CEO Elaine Auld authored a paper for Health Promotion & Practice outlining the role of CHES® professionals in health reform.
SOPHE Chapters, one of the largest MEP providers, offer some 10,000 hours annually for live and distance education events.
The mission of NCHEC is to enhance the professional practice of Health Education by promoting and sustaining a credentialed body of Health Education Specialists. To meet this mission, NCHEC certifies health education specialists, promotes professional development, and strengthens professional preparation and  practice.
To learn more about NCHEC and 2017 award winners read the news story, NCHEC Announces 2017 Outstanding Service and Leadership Award Winners.