Last year, I attended my first health professional conference. I packed several stuffy straight and narrow pantsuits expecting that was appropriate dress while attending conference. Luckily, I also packed some of my favorite business casual clothes.
The energy at SOPHE 2018 was far from what I expected, especially as a student. I thought I had to portray an image in order to make the kinds of connections I was looking to make but I was wrong.
Everyone at SOPHE is approachable. A lot of people tend to say that their job or organization is like a family. This is one of the few times I actually experienced that vibe. Even on the shuttle ride to the hotel from the airport, I encountered SOPHE members – who were university professors giving academic advice and attesting that SOPHE is what helped propel their career.
Originally, I thought that this encounter was just luck. I convinced myself that I just happened to meet professionals that weren't judging me for my traveling clothes and it was just luck that I found people who actually began conversations with me. Then I reached the hotel. Every single SOPHE staff and volunteer that I encountered greeted me with smiles, asked about my travel, inquired about my committee status or if this was my first conference. They all gave me pointers and recommended sessions for me to attend.
When I disclosed that I was a presenter that year, several SOPHE staff made a note on their phone, notepad etc., and said that they'd stop by and they actually did. I received words of encouragement from all that were present and the SOPHE staff that couldn't make it, found me later and asked me how it went. As a student, I have never been in a professional setting that was so welcoming and warm. I was able to meet, sit down and talk to, and exchange contact information with the former president of SOPHE, Dr. Adenike Bitto as if we were old friends.
The level of openness that SOPHE provided allowed me to fully capitalize on the experience. I did not feel nervous or afraid of asking for help, I was not worried about not having perfect answers to every question; it was like going on a business trip with all of your favorite professors.
The experience was so powerful and meaningful to me, that I went back to Morgan State University and told my peers about it and then I applied to every applicable opportunity on SOPHE's website.
I am now serving as SOPHE spring 2019 intern where I am currently assisting in the planning process for SOPHE 2019. I received a 21st Century Scholarship before even learning that I had be chosen for the internship and I plan on remaining active as a SOPHE member/volunteer after my term here is done because it's like home.
SOPHE is for students, you don't have to know your career plan with complete certainty, you don't have to be afraid to ask the questions that'll reveal where you are in life, SOPHE is where you can learn what steps to take to figure out your plan.
The pool of professionals that attend the conference is so diverse and transparent you might even walk away with a completely different life plan than when you first walked in the door.
As a student, this experience was enriching and fulfilling, I met and conversed with the CEO of a major health organization my very first time at one of their events; the level of confidence I felt after that moment was unimaginable and amazing and priceless.
Every career interest I had going into the conference, I was able to meet and talk with a person already in that field whom was just as transparent as the people I met on the shuttle; SOPHE is the word community personified.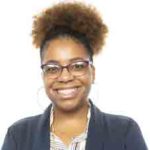 Thailaya Berry
SOPHE Intern, Spring 2019