Fruits & Veggies—More Matters®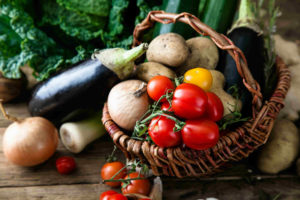 Fruits & Veggies—More Matters® Month is a time to promote the health benefits of eating a healthy, balanced diet that includes lots of fruits and vegetables.
Why eat more fruits and veggies?
To stay strong and active. Healthy foods like fruits and veggies have the vitamins, minerals, and nutrients your body needs.
To lower your health risks. Eating a healthy diet with lots of fruits and veggies can help you lower your risk for chronic health conditions like heart disease and type 2 diabetes.
To manage your weight. Eating healthy and getting physically activity can help you stay at a healthy weight.
To set a positive example. If you have children, how you eat can impact their food choices for years to come. Set them up for success!
Tips to get more fruits & veggies in your life
Try a new veggie recipe – try the recipe with a new vegetable.
Keep a bowl of fruit handy where the entire family can see it.
Cut up fruits and veggies to grab and eat on the go.
Try pre-cut packages of fruit and veggies for a healthy snack in seconds. Choose packaged fruits that don't have added sugars.
Sauté veggies with olive oil and add your favorite spices. Dunk them in your favorite low-fat dressing, hummus or low-fat dip.
Throw baby carrots or grapes into a bag and take them with you for an easy snack on the go. The tiny versions of most vegetables actually tend to be sweeter and have more flavor in each bite.
Whether it's strawberry-banana, green tea and blueberry, or a fruit and veggie mix, smoothies are an easy way to drink up your fruit and veggie servings.
Related Resources
Fruits & Veggies More Matters Month
| Open PDF
SOPHE has created this grab & go packet to help spread the word about September is Fruits & Veggies More Matters® Month among community members, leaders, and other stakeholders. For…