Jody L Vogelsang, PhD, RDN, FAND, CHES®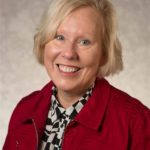 Ten-year SOPHE member, Jody Vogelsang, lives by her parents' advice,
"Yes, you can."
If she was not an associate professor and program director at Grand Valley State University in Allendale Charter Township, Michigan, Jody would be a social worker or Peace Corp volunteer. But she chose her career because she loves the breadth and how her positions have made a difference in people's health behaviors.
When Jody is not working, she is out with family and friends. She loves the outdoors and the four seasons – even snow! She keeps abreast of the news via the New York Times, Los Angeles Times and the Washington Post. She also shares her spare time watching BBC criminal shows on television.
Jody lives in Michigan with her family.