Bree Bode, MPH, CHES,®
PhD Candidate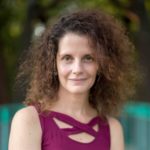 Bree is very fortunate. She's been mentored by some amazing faculty in her life. And, she's excited to teach the next generation of health educators.
Bree is currently pursuing her PhD from Wayne State University in Detroit. She is a graduate of Grand Valley State University in Grand Rapids, Michigan with a Bachelor of Science degree in physical education, corporate fitness/wellness, and her MPH in health education and promotion.
Her interest in health education stems from her passion to infuse health education with community solutions. There are many health education specialists who share her vision of impacting policy to influence health choices.
A career in health education allows Bree a chance to change the world, meet new people, learn from community members, advocate for better food systems, think creatively to create programs, and build solutions alongside a team that encourages her to work harder and make changes.
The best advice Bree ever received was from her parents, who told her, "You can be anything you want to be."
Bree's advice for people starting out in health education,
"Know your strengths and build on them. Identify your weaknesses and stretch into them. Find a boss and an organization that wants you to do both."
Bree was born in Maine and enjoys camping, ocean views, and quaint city eateries. When she is not working on her PhD coursework, she enjoys volunteering, a good movie, hanging out in coffee shops, hiking, and spending time with family playing games.
The best career advice Bree received,
"Don't give up. Humbleness is inherent, be confident and express your skills with intention."
Bree is a member of the SOPHE Great Lakes Chapter.