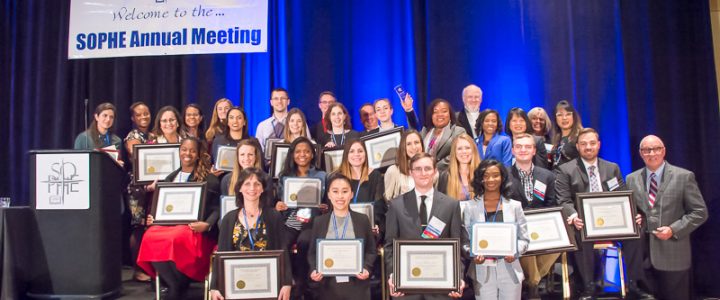 Awards, Fellowships & Scholarships
Every year, SOPHE presents awards to faculty, practitioners, students and chapters in more than 15 categories.
Read about each award, fellowship or scholarship, the eligibility, requirements, and submit an application.
The following awards are open through September 30, 2019
Professional Awards
Student Awards
Fellowship
Apply before September 15, 2019 deadline
---
NCHEC's Helen P. Cleary Scholarship
Available September 23-27, 2019 only!
The Helen P. Cleary Scholarship provides financial support to students enrolled in a health education related degree program to take the national Certified Health Education Specialist (CHES®) examination.
---
Spring Scholarships, Fellowships & Internship
Open February through May
Student Awards
Professional Awards
Fellowships
---
Award Presentations
Awards are presented annually at SOPHE's Annual Conference.