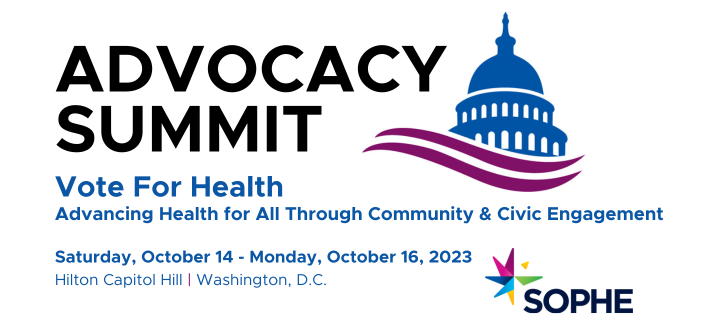 Registration
Plan to join SOPHE for our 2023 Annual Advocacy Summit in Washington, D.C., Saturday, October 14 – Monday, October 16, 2023.
Rates
| | |
| --- | --- |
| Registration Type | Rate |
| SOPHE Student member | $95 |
| Student non-member | $175 |
| SOPHE Professional member | $195 |
| Professional non-member | $255 |
2023 SOPHE Annual Advocacy Summit registration rates
SOPHE will honor the rate for the 2023 Advocacy Summit until Friday, October 13. Remaining abstract announcements are expected to be made by Friday, September 22.

Terms & Conditions
Payment
If you choose the "invoice me" option, your registration MUST be paid before the registration deadline. For example, early bird must be paid by September 15, 2023. If payment is not received by this date, SOPHE reserves the right to increase your registration rate to the next level. All full-conference registration must be paid when the conference starts Saturday, October 14, 2023.
Event cancellation by SOPHE
SOPHE reserves the right to cancel an event due to low enrollment or other circumstances which would make the event non-viable. If SOPHE cancels an event, SOPHE has the right or transfer registration to the same event at a new, future date. SOPHE will not be responsible for reimbursement of any participant's expenses related to the cancellation or postponement of an event.
Cancellation Policy
Registration cancellations: Deadline to request a full refund or transfer your registration to the SOPHE 2023 Advocacy Summit is October 2, 2023. Cancellations must be received by the stated cancellation deadline and will be accepted in writing only to info@sophe.org. All cancellations will be subject to a $50 fee. No-shows for the event will not receive a refund or credit towards the SOPHE Advocacy Summit.
Substitution Policy
Substitutions will be allowed if you are not able to attend, provided they are of the same SOPHE membership status and the request is submitted in writing. Substitution of registration (same type: member/non-member) is permitted prior to October 2, 2023. Only one substitution is permitted per original registrant with written consent. The individual submitting the substitution request is responsible for all financial obligations associated with that substitution as well as updating any contact/demographic information. Please email substitution requests to info@sophe.org
Refunds
All refund requests must be made by the registered attendee or credit card holder and include the name of the attendee and/or transaction number. Refunds will be issued via the original payment method used, no later than (30) days after cancellation has been approved. Please send written cancellations to info@sophe.org
Not eligible for a refund
Membership fees associated with new membership bundles/non-member registrations.
Discount or special promotion codes are only available on new registrations, refunds are not available to any existing registrations.
Consent to the use of photographic images
Registrations and attendance at, or participation in the SOPHE 2023 Advocacy Summit constitutes an agreement by the registrant to SOPHE's use and distribution (both now and in the future) of the registrant or attendee's image or voice in photographs, videotapes, electronic reproductions, and audiotapes.
I understand that I give SOPHE permission to use (display, publish, etc.) any photograph(s) of me at this conference for any purpose deemed appropriate by SOPHE. Photographic images may be used in promotional publications online and in print to educate the public about SOPHE and the work of its members.
Photographic images may be transmitted to news media outlets for distribution. Photographic images may be kept in a stock photo file by National SOPHE.
SOPHE always strives to present individuals in a complementary, culturally sensitive, and appropriate manner.
To opt out of the photo release, registrants must submit their request in writing via email to advocacy@sophe.org.
Liability Waiver & Release
In consideration of being allowed to register for, and participate in the SOPHE 2022 Advocacy Summit, I hereby warrant and represent that I am age 18 or above and freely waive, release from liability, assume all risks, and covenant not to sue the Society for Public Health Education (SOPHE) or its members, employees, board members, agents, or volunteers for any expense, loss, damage, personal injury, including loss of life, disability, property damage, or property theft or actions of any kind that I may hereafter suffer or sustain before.
During or after the event unless said expense, loss, damage, personal injury, including loss of life, disability, property damage or property theft or actions of any kind is caused by the sole, gross negligence of SOPHE.
This waiver and release is specifically binding upon my heirs and assigns and is knowingly given.
Code of Conduct
SOPHE is committed to provide a safe, productive, and welcoming environment for all conference participants and SOPHE staff. All participants, including, but not limited to, attendees, speakers, volunteers, exhibitors, SOPHE staff members, service providers, and all others are expected to abide by this Advocacy Summit Code of Conduct. This policy applies to all SOPHE Summit-related events, including those sponsored by organizations other than SOPHE, but held in conducting with SOPHE events, on public or private platforms.
SOPHE has zero tolerance for any form of discrimination or harassment, including but not limited to sexual harassment by participants or staff at our conferences, events or meetings. If you experience harassment or hear about incidents of unacceptable behavior, immediately inform Willam Potts-Datema, Interim CEO, via email at wdatema@sophe.org so that we can take appropriate action.
Unacceptable behavior is defined as:
Harassment, intimidation, or discrimination in any form.
Verbal abuse of any attendee, speaker, volunteer, exhibitor, SOPHE staff member, service provider, or conference guest.

Examples of verbal abuse include but are not limited to, verbal comments related to gender, sexual orientation, disability, physical appearance, body, size, race, religion, national origin, inappropriate use of nudity and/or sexual images in public spaces or in presentations, or threatening or stalking any attendee, speaker, volunteer, exhibitor, SOPHE staff member, service provider, or other meeting guests.

Disruption of presentations during sessions, in the exhibit hall, or at other events organized by SOPHE during the Advocacy Summit. All participants must comply with the instructions of the moderator and any SOPHE Advocacy Summit staff.
Presentations, postings, and messages should not contain promotional materials, special offers, job offers, product announcements, or solicitations for services. SOPHE reserves the right to remove such messages and potentially ban sources of those solicitations.
Participants should not copy or take screenshots of Q&A or any chat room activity that takes place in the digital conference space.
SOPHE reserves the right to take any action deemed necessary and appropriate, including immediate removal from the meeting without warning or refund, in response to any incident of unacceptable behavior, and SOPHE reserves the right to prohibit attendance at any future meeting, digitally, or in person.