Health Promotion Practice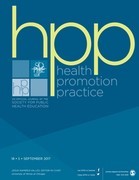 Health Promotion Practice is a forum for authoritative research, commentary, practical tools and promising practices that strategically advance the art and science of health promotion and disease prevention.
Unique in its practitioner focus, HPP is committed to eliminating health disparities, achieving health equity, addressing social determinants of health, and advancing evidence-based health promotion practice.

What is anti-racism in health promotion practice? Evidence, action and emerging voices advancing equity and justice
Abstracts due May 1, 2021
2020 brought urgent attention and renewed resolve to issues of equity and justice, particularly systemic racism. HPPs editorial leadership is committed to contributing to this historic moment by bringing forward examples of community-engaged projects, reflections, and scholarships that offer tools, language, insights, and lessons learned for dismantling racism and centering equity. The focus is anti-racism practice in all areas of health promotion, with a particular interest in community resistance, power, and transformation.
Submission Requirements
Please follow the journal's submission guidelines, noting in the cover letter that you are responding to HPP's call for manuscripts.
All submitted manuscripts will undergo standard peer review by the HPP editors and peer referees, as defined by HPP policy. Questions can be directed to editorial manager Jeanine Robitaille at jrobitaille@sophe.org.
---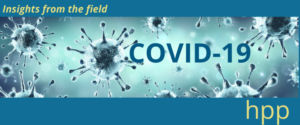 Our lane in the COVID-19 Pandemic: HPP editorial board member experiences and perspectives from around the world.
Read the blog posts in this series
---
HPP's special collection on the lessons learned from health promotion in indigenous communities.
The new collection of eight papers focus on lessons learned from health promotion in indigenous communities in the United States and Canada.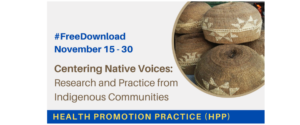 ---
Featured reading list for faculty, students and practitioners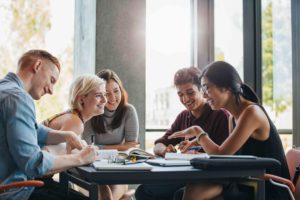 Easy to access articles on:
This journal is a member of the Committee on Publication Ethics.
---
Access to the full-text of published articles is free to Health Promotion Practice subscribers. Availability to others is on a pay-per-view or timed access basis.
SOPHE national members receive online and hard copies of the journal as a membership benefit.
The electronic version of Health Promotion Practice is available free online, exclusively to SOPHE members through SAGE Journals Online after logging into MySOPHE.
---
Editor-in-Chief: Kathleen Roe, DrPH, MPH
Editorial Manager: Jeanine Robitaille, MS, CHES®
Related Resources
Call for Manuscripts: HPP Photovoice Special Issue
| Open PDF
Health Promotion Practice seeks to curate a body of salient manuscripts that explore the current state and future directions of photovoice. Of particular interest are manuscripts that demonstrate the use of photovoice as a vehicle for illuminating issues of concern, promoting health equity, advocating for social justice, and advancing efforts…