SOPHE mourns the passing of Rep. John Lewis, our 2017 Honorary Fellow, SOPHE's highest award to a non-member for his life's devotion to health equity and social justice. Our nation has lost an indomitable civil rights leader, statesman and fearless advocate who was unwavering in his dedication to social change.
SOPHE honors Mr. Lewis' legacy in advocating for the health of all people and recommits to his invocation to "stand up, speak up, and ensure all persons are informed about healthcare…as a birthright, not depending on the size of their paycheck or bank account".
Cam Escoffery, SOPHE's President, remarks that "we have lost a giant who championed civil rights and social justice and was a tireless voice for freedom and equality throughout his life. Mr. Lewis embodies his quote, "You cannot be afraid to speak up and speak out for what you believe. You have to have courage, raw courage." SOPHE will continue his passionate advocacy for voter's rights, social justice and healthcare for all.
---
"This is a sad, sad day. To lose a man like John Lewis when we need his kind of leadership and strength more than ever, but he taught us all well, and we will rally on."
Jean M. Breny, 2019-20 SOPHE President
"Hearing about the passing of Congressman John R. Lewis has deeply saddened me. The world has lost a great leader is terms of advocating for anti-discrimination, social justice, equity for all, and love of each other. May we keep his legacy alive by promoting anti-discrimination, social justice, and health care all. Sincere condolences."
Deborah A. Fortune, SOPHE President-Elect
"It was an honor and a privilege during my tenure as SOPHE President to join Elaine Auld (CEO) and Past-President Dave Birch in presenting the SOPHE 2017 Honorary Fellow Award to Congressman John Lewis in his office on the Hill.
"I cherish meeting Congressman John Lewis, his great accomplishments and his indomitable devotion to the causes for which SOPHE recognized him; his humility and gentleness, his graciousness to our SOPHE contingent; his kindness to us, which was also reflected in how his congressional aides received us; and indeed it was one of the highlights of my SOPHE Presidency! I hold dear his quiet comment thanking me personally for being at the event. I stand in awe of Congressman John Lewis!
Now, as the second female Black SOPHE President, I feel former President Barack Obama's 2008 Inauguration Day attribution, and would like to add a posthumous honor, "Because of you, Congressman John Lewis – Thank you!"
Finally, as we mourn Congressman John Lewis – a civil rights icon and a forthright, magnanimous leader – former President George W. Bush has a word for us this morning: "America can best honor John's memory by continuing his journey toward liberty and justice for all."
Adenike Bitto, 2017-18 SOPHE President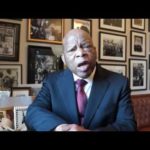 "As SOPHE President, having the honor to announce to our members that John Lewis was our 2017 SOPHE Honorary Fellow, and then later actually meeting him and giving him the award in his office, has been the highlight of my career in health education. His long history of advocacy for social justice has not only improved all of our lives but serves as a model for how we can move forward in addressing our current challenges. He is a true hero!"
David Birch, 2016-17 SOPHE President
"Losing such a courageous champion for Civil Rights at this time in our nation's history is beyond words. Despite Rep. Lewis' renown and lifetime achievements – many of which were captured in photos, medals, and citations from world leaders in his humble Congressional office — I will remember his humility, warmth, and gracious welcome to our SOPHE entourage in bestowing the 2017 Honorary Fellow Award. In our mourning, it is a call to action to honor the legacy of his leadership by continuing the fight for social justice, freedom and health for all."
Elaine Auld, SOPHE Chief Executive Officer